Imagine a future in which you travel the world and make good money while helping others. It won't take an MBA, JD or Ph.D. to make this vision a reality. All you have to do is go to massage school to become a massage therapist.
Armed with your degree, you will have the opportunity to travel the globe and practice massage therapy at all sorts of facilities.
Clients Abound
Regardless of where you go in the world, people need and desire a massage. You can find work on a cruise ship, at a resort, athletic center and just about everywhere in between where people need to relieve stress. Some massage therapists even set up their own business to provide a mobile massage service.
Your client base is not limited strictly to athletes and those who have physical ailments. People who are on vacation, stressed out businessmen, gym-goers and all sorts of other people will line up for your services. After all, who doesn't enjoy a massage?
An Adventure Awaits
Take a moment to think about how exciting it will be to globe trot from one exotic destination to another, making well above a living wage and improving the lives of others. If you have any sort of adventurous spirit, mobile massage therapy is perfect for you.
You might find work at a resort or spa in a country that you have always desired to live in. Luxury destinations from five-star hotels to medical spas, adventure retreats and even yoga training getaways all require the services of professional massage therapists.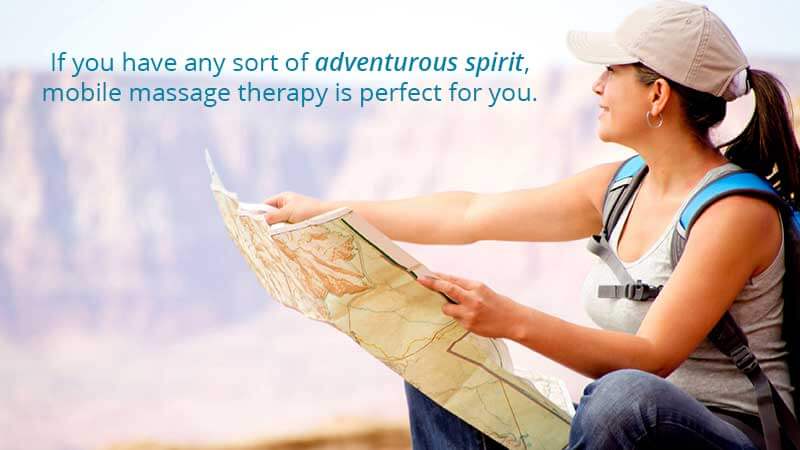 Working at a resort provides all sorts of benefits that you wouldn't be able to enjoy here at home as a traditional massage therapist. You will have access to amazing destination facilities, scenic environments and diverse cultures.
Those who desire to embark on a multi-destination adventure will feel right at home working as a massage therapist on a cruise ship. There is a significant demand for massage therapy on cruise liners because their clientele takes to the water for stress relief and fun.
You will have room and board on the ship and be able to stop at ports in cities across the globe. You will constantly be on the move, traveling the waters from one glorious destination to another. A life on the water where you put your massage therapy skills to use is a reality that thousands of massage college graduates enjoy.
People just like you are making good money giving massages as they cross the seas and oceans. This seemingly luxurious lifestyle isn't a pipe dream in the slightest.
Launch Your Career Today
If you have grown tired of seeing the same faces and places around your traditional job, don't punish yourself one moment longer. Change your life by enrolling at the American Institute of Alternative Medicine.
Here, you will learn an array of massage techniques that leave your clients feeling relaxed and content. Reach out to us today to schedule a tour of our campus.
Ready to Start Your Career in Massage Therapy