If you're reading this, you're probably having questions like, "What does a massage therapist do?" and "What skills are required for the job?" This article will provide some essential information about massage therapy careers, including the duties of a massage therapist, the typical work environment, and the job outlook. Whether you're just starting to explore your career options or are already considering massage therapy, this article will give you a better understanding of what to expect.
What Is a Message Therapist?
A massage therapist is a professional who uses various techniques to manipulate the muscles and soft tissues of the body to help improve physical function, reduce pain and stress, and promote relaxation. They may work in various settings, including spas, health clinics, and hospitals. Massage therapists typically have completed a formal training program and are licensed or certified by the state where they practice.
Massage therapy can benefit many conditions, including chronic pain, headaches, muscle tension, and stress-related disorders.
What Does a Massage Therapist Do?
Massage therapists are concerned with manual therapy that includes manipulating and applying pressure to the muscles and other body parts to relieve pain and make patients feel better. The duties and responsibilities of massage therapists may vary depending on their workplace, but generally, they are responsible for the following:
Understanding the client's health conditions and any contraindications that may affect the treatment
Customizing the massage treatment according to the client's specific needs and preferences
Being skilled in various techniques to help provide the best quality of service
Monitoring the client's progress and adjusting the treatment plan as needed
Educating clients on how to take care of their bodies and what they can do to maintain the benefits of massage therapy
Maintaining professional and ethical standards while providing massage therapy
What Is the Workplace of a Massage Therapist Like?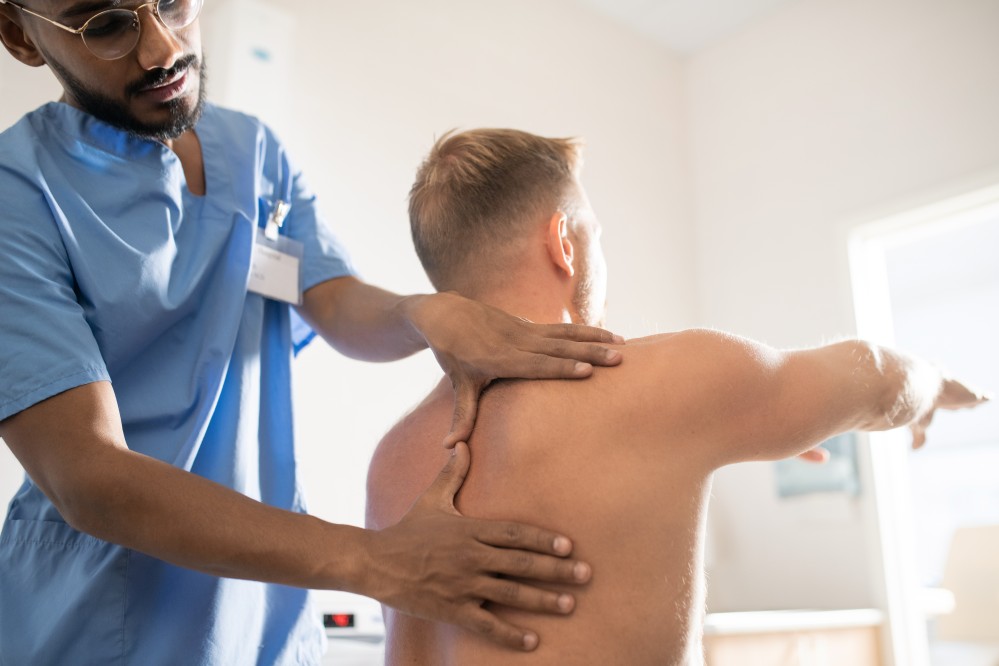 Massage therapists can be found working in a variety of settings, from spas to the offices of different healthcare professionals. Some massage therapists also travel to local events, visit clients in their homes, or work in other locations.
In a spa or wellness center, the massage therapist works in a dedicated massage room with a massage table, linens, and oils. They may also have access to spa amenities such as saunas or steam rooms. In a chiropractor or physical therapy office, the massage therapist may work alongside other healthcare professionals.
Hotels or resorts may have massage therapists working in a spa or wellness center on the property or offer in-room massages to guests. Private practice massage therapists typically work in their own office or studio space, which may include a massage table, linens, oils, and other equipment.
Overall, the work environment of a massage therapist is typically quiet and peaceful, with dim lighting and soothing music. Massage therapists work with various clients, from athletes to people with chronic pain, and must be able to adapt their massage techniques to suit the needs of each individual.
How To Become a Massage Therapist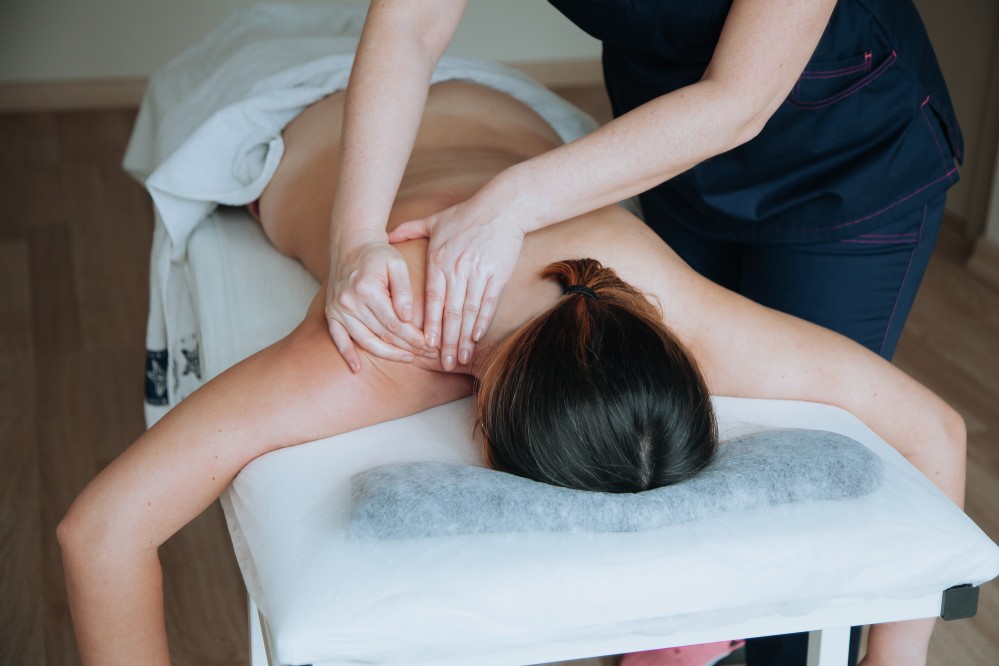 The path to becoming a massage therapist typically begins with extensive research on medical massage therapy programs and finding the best match. Becoming a medical massage therapist will take nine months at the American Institute of Alternative Medicine (AIAM), where the coursework will provide you with everything you need to succeed in your career. The coursework will generally cover, but not be limited to, the followings:
Massage Therapy Techniques
Anatomy and Physiology
Musculoskeletal Anatomy
Ethics for Massage Therapists
Advanced Medical Massage Techniques
Remember that upon enrollment, you will be required to have a high school diploma or GED recognized by the Department of Education.
After completing your education, you must pass a certification exam and apply for a license in the state where you plan to practice, such as Massage & Bodywork Licensing Examination (MBLEx).
Gaining experience is just as important as your education. Consider working as an apprentice or intern to gain hands-on experience and build a client base.
Massage therapists also must complete continuing education courses to maintain their licenses or continuously update their knowledge and skills by taking continuing education courses.
Lastly, network and market yourself. Attend industry events, join professional associations, create a website or social media presence to promote your services, and do your best to offer people what they need.
Professional Massage Therapist Salary and Job Outlook
The average salary for a professional massage therapist in the United States is around $46,910 annually. However, this can vary depending on factors such as location, experience, and type of employer. With that being said, your earnings can go up to $77,600.
The job outlook for massage therapists is positive. According to the Bureau of Labor Statistics, the employment of massage therapists is anticipated to grow by 20% from 2021 to 2031. The positive outlook is due to an increasing emphasis on the importance of holistic health and wellness and an aging population that is more likely to seek massage therapy for medical reasons.
Should You Pursue a Career as a Massage Therapist?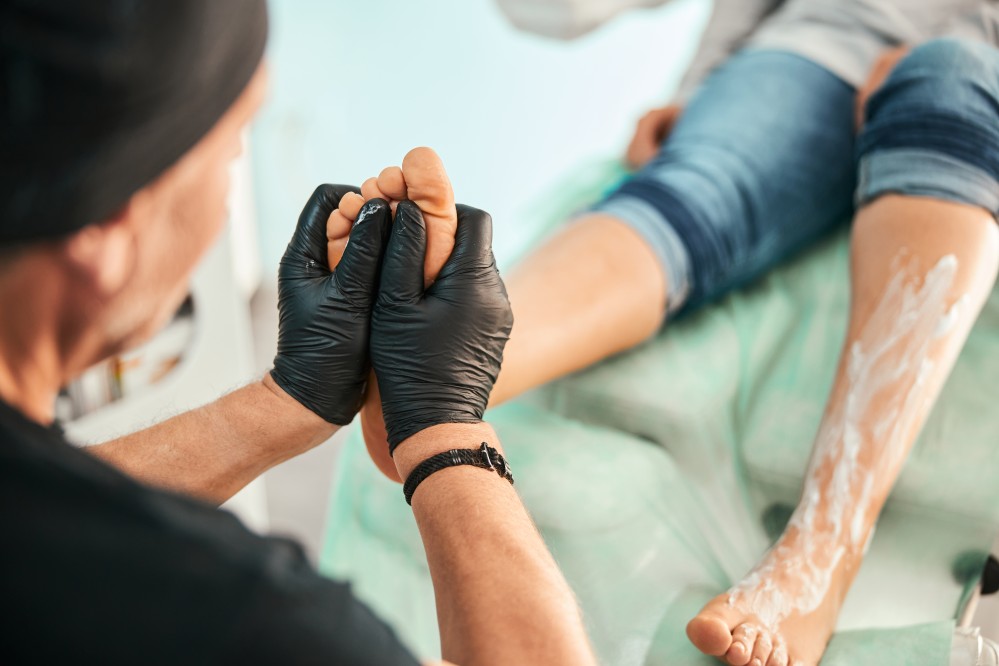 The decision to pursue a career as a massage therapist is a personal one and depends on your interests and goals. However, if you are honestly considering this career, we advise you to ask yourself the following:
Do you enjoy helping others and want to improve their physical and emotional well-being?
Are you comfortable working with clients of all ages and body types?
Are you willing to invest time and effort into training and education?
Are you comfortable with the job's physical demands, such as standing for long periods and using your hands to provide massages?
Are you open to working flexible hours, including evenings and weekends?
If you answered yes to most of these questions, then a career as a massage therapist may be a good fit for you. Overall, it can be a fulfilling and rewarding profession if you enjoy working with your hands and are interested in health and wellness.
Additionally, the demand for massage therapists is expected to grow as more people turn to alternative forms of healthcare. However, it's important to note that massage therapy is a physically demanding job and requires a lot of education and training.
The Bottom Line
A massage therapist is a professional who uses various techniques to manipulate the body's soft tissues to promote relaxation and relieve pain and tension. They may work in multiple settings, including spas, clinics, and private practices.
If you're interested in learning more about a career in medical massage therapy, consider committing to AIAM's Medical Massage Therapy program. Apart from enriching your clinical skills, you can expect to gain valuable knowledge about essential business skills and professionalism to prepare you for a lucrative, long-lasting job as a licensed massage therapist. All of this is possible thanks to our almost 30 years of experience in training and developing new massage therapists.
What are you waiting for? Contact us and set yourself up for success!