Should I Attend Massage School?
Working as a massage therapist can be a fun and rewarding career, but it's not necessarily an easy field to enter. To be successful as a massage therapist, you need to be familiar with the human body, know how to conduct yourself professionally and understand the aspects of running a massage business (even if you work for someone else). If this sounds like something you are interested in, the best place to start is a massage school.
Learn About the Human Body
Giving someone a massage involves much more than just rubbing their back or legs. Massage therapists need to be familiar with the origins and actions of each muscle in the body — and there are a few hundred of them. At massage school, you'll study anatomy, physiology, pathology and kinesiology, so you'll know how all the muscles in the body work.
You'll also become familiar with the contraindications and cautions of massage, so you'll know when it's safe to give someone a massage and when it's not. If a massage routine needs to be adjusted to accommodate a client's medical issue, you'll know how to make the necessary changes.
Even when clients don't have medical issues that need to be worked around, you'll still be able to provide a higher level of service after going to massage school. When a client says that a particular action or motion hurts, you'll know what muscles are involved in that movement and the best way to massage them.
Learn How to Act Professionally
When working as a massage therapist, you'll see "and touch" all kinds of people: skinny people, chubby people, cleanly shaved people and hairy people, as well as people of all races and ethnicities. You need to be able to act professionally in front of every client.
At massage school, you'll get practice conducting yourself professionally in front of all different kinds of people. You'll rehearse intakes and interview questions, and you'll practice massaging different types of bodies.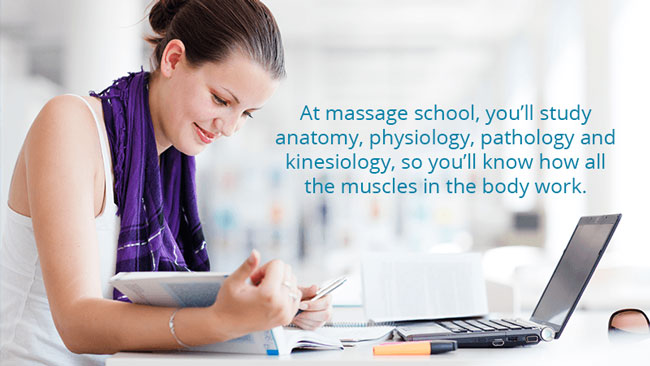 Learn About Massage Therapy Businesses
Many massage therapists plan on working for themselves one day. But opening your own massage business takes much more than just knowing how to give a good massage. You'll need to know how to assess different massage businesses, create marketing materials, and write an effective business plan. Students in the massage school will learn all of this and more, paving the way for them to open their own practice upon graduation. Even if this isn't your career goal, it's still important to know how businesses in the industry operate. If you don't open your own business, you'll end up working for one of them.
At the American Institute of Alternative Medicine, we include business skills in our curriculum. We have several professional development and business courses that students take during their training. By the time you graduate, we don't want you just to know how to give a good massage. We want you to have a long, successful career as a massage therapist.
Ready to Start Your Career in Massage Therapy?