Sharmine Lynch is a recent AIAM graduate who can't wait to get out and show the world what acupuncture is really about.
"I have always felt like a healer, in the sense that achieving true healing requires a lot of encouragement, and I have always been good at encouraging others to heal themselves."
Sharmine has been around acupuncture most of her life, and felt as though she kept being pulled back to it during life's different stages.
She worked with a vet who offered acupuncture to pets when she was younger, and then again in her 20s. After witnessing the healing effects acupuncture had on animals, Sharmine was inspired.
"Animals can't lie, if you want honest research and feedback, animals give it to you. I watched all of these pets gain benefits from acupuncture treatment so I started exploring more about how it affects people."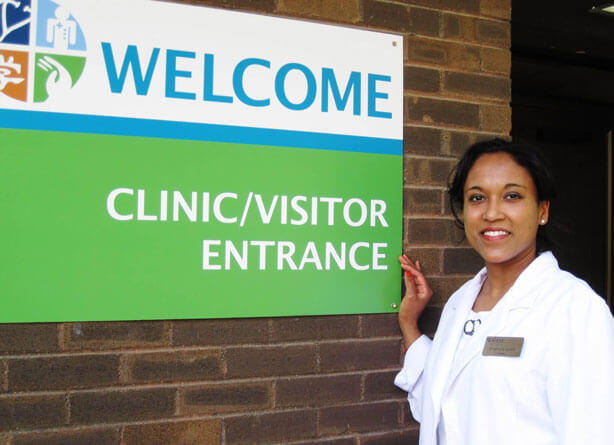 Sharmine joined the military for a period, and then pursued her degree in Veterinary School, where she quickly learned she had developed an allergy to animals, forcing her to drop-out. She then began working as a medical scribe in a hospital.
"It was heartbreaking. I saw patients come in miserable, leave with a prescription, then return the next week or month with the same set of issues, and a whole new set of side-effects from the medications. It was just the same people, over and over."
"There is definitely a need for Western Medicine, don't get me wrong, it can do a lot of good, but sometimes it just isn't what your body needs to heal itself."
Someone close to Sharmine began seeing an acupuncturist for pain during her work as a medical scribe. After speaking with his Acupuncturist she knew acupuncture had found her once again, and this time it had caught her for good.  She began researching schools near her area, and was referred by a friend to AIAM.
"After I saw the positive changes acupuncture brought my [loved-one], I knew that was it, this is what I want to do with the rest of my life."
As a 6th quarter student at AIAM Sharmine began working with the public in AIAM's clinic. She gets to treat real patients, with real problems, and she takes a lot of pride in her work.
"Some people are terrified of needles, I get that, I am too! I am very conscious of this when I treat my patients; I use my own approach and try to be as gentle and caring as possible. The idea of being gentle is at the forefront of my treatment, always."
"The best thing about the acupuncture program is the instructors really encourage you to develop who you are as a professional. They encourage us to find our own unique way of approaching things, and run with it. You can really shine this way!"
Sharmine's advice to those who are considering acupuncture as a profession is to just go for it!
"Just do it, that's my advice. Take a step back and look at your life, think about what you will be doing 20 years from now. This could be it. Or, this could just be a stepping-stone you need in your life to reach something much bigger. If you don't think you can do this, trust yourself, you can. If you really want to be an acupuncturist, go after it, because really, what do you have to lose?"
Sharmine plans to open her own practice after graduation in Yellow Springs, Ohio. She is excited for the future, and the opportunities in her career path are already opening.
"I am in contact with a physician who can't wait till I graduate! She wants help with her patients who suffer from arthritis and needs someone to refer them to for acupuncture treatment!"
The best part about becoming an acupuncturist, aside from helping others? For Sharmine, it's learning.
"There is so much more to someone's health than you can see. People thank me after their treatments when really they should be thanking themselves. It's the power of their body responding to natural healing.  The best part about treatment for me is that I never stop learning! You never stop learning as an acupuncturist; every day is a new opportunity to grow!"
---
Ready to Start Your Career as an Acupuncturist?