"Many of my co-workers who had been working for decades were beginning to break-down; they were dealing with a lot of muscle tears and just in a lot of pain from years of heavy lifting. I started to realize maybe it was time to change careers, so I started thinking, what would I be doing if I could do anything?"
Brian Yelverton has a Bachelor's degree in Philosophy, operates a free-range beef farm, and is a recent AIAM alumnus. He first discovered acupuncture through an injury sustained during his former job.
Working as a rigger; setting up stages, lights, and audio equipment for touring bands, Brian tore a muscle in his arm and sought alternative treatment to help relieve his pain and avoid taking heavy doses of pain medication.
"I heard most people who choose to get surgery done (on the muscle) only found it lasted a few years, and had to take narcotics, always on some kind of meds. I didn't want that for myself."
Within months after beginning acupuncture, Brian felt the powerful impact of his treatments, leading him to AIAM to pursue acupuncture as a career.
Brian commutes to Columbus, Ohio from his farm in Indiana 3 days a week for classes and to work as an intern in AIAM's student clinic. In the clinic Brian gets to work directly with community members who visit the clinic seeking acupuncture treatments for varying health ailments.
"I am in my second quarter doing treatments, and it's great to see patients improving.  It's nice because we get to work with and help people who really need it, most have tried everything to take their pain away, therapy, drugs, surgeries, but nothing works. It's nice to be able to provide pain relief for those people and see them leave in a good mood."
Like many AIAM acupuncture students and alumni, Brian advises researching acupuncture before committing to turning it in to a career.  Changing viewpoints from Western Medicine philosophies to Eastern Medicine philosophies is often challenging for students.
"You don't want to come in to this program with no exposure. Read a good starter book, like Between Heaven and Earth, or The Web that has no Weaver. If you do research, and are put-off by what you find out, this probably isn't for you.  If you do research, and you're fascinated, go for it!
Some people come into programs like this because they only want to make money.  In every program, at any school, you will have difficult classes or classes that seem boring. If you have passion for what you're doing it makes getting through those courses easy, you only see your end goal to help others. If you are only in it to make money, doing the difficult stuff will make you resentful."
Now that Brian has graduated, he hopes to open his own practice near his home, where alternative therapies are scarce. There, he can provide a new avenue of wellness and pain relief for community members and doctor referrals; he has already begun building his client base.
"If your end goal coming out of the program is to help other people, there is no way for you not to succeed here. I just want to help other people; helping people makes me happy, so this is a career that will make me happy and that's awesome."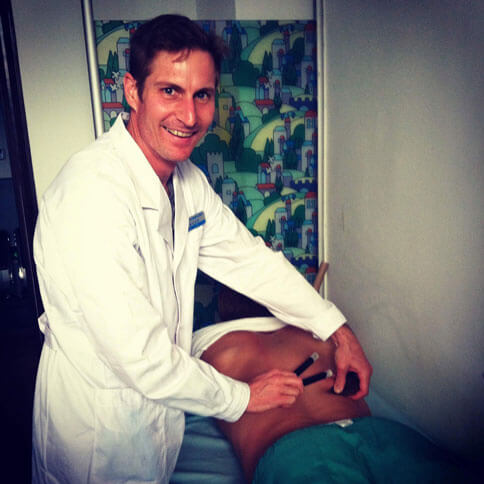 Interested in Learning More About A Career in Acupuncture?
Call 614-825-6255, or click here to start your career in acupuncture today!