Are you planning to pursue a medical career but need help deciding what specific path to choose? Such decisions are not easy to make, but it will certainly help if you explore and learn about the different medical careers available.
This article explores some of the key differences between nursing vs. medical assisting. So, keep reading to learn more about these two healthcare professions, including their requirements, job prospects, and salaries.
Medical Assistant vs. Nurse: What Are the Differences?
First, you must know that professionals in both fields are of utmost importance to the healthcare industry. Without their help, healthcare institutions would probably be a mess.
It's usual for patients not to see the differences between these professionals because of their numerous similarities. However, medical assisting and nursing differ on many levels. Those differences start with education, certification requirements, and licensing and continue through roles, responsibilities, skills, and specializations.
What Is a Medical Assistant?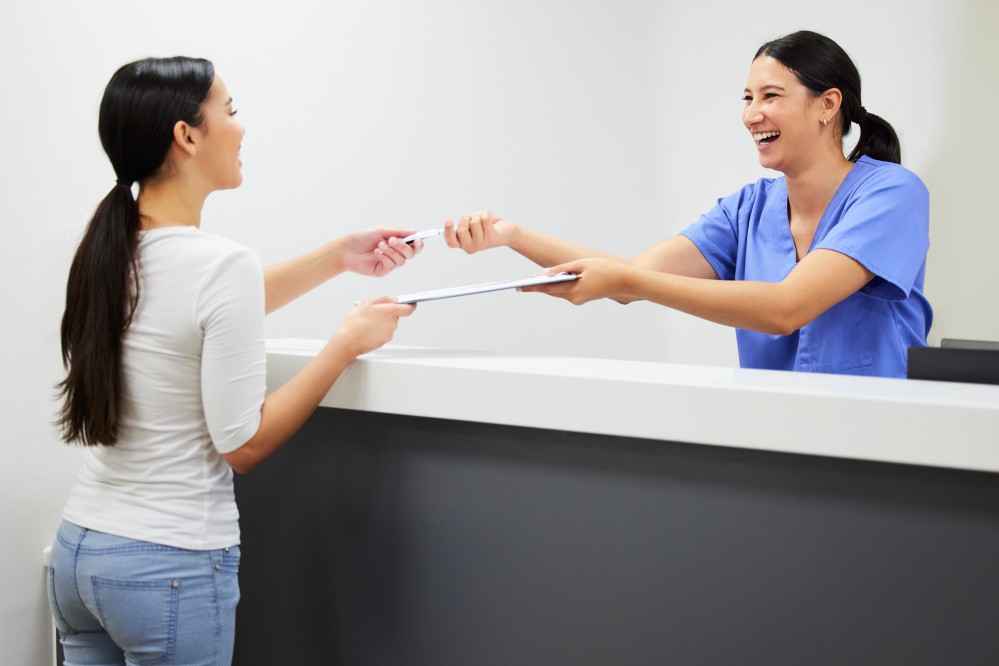 Medical assisting is a unique medical role that supports doctors and nurses in delivering quality care to patients. In addition to clinical tasks, medical assistants (MAs) are also responsible for administrative tasks. Since they support more than one side of healthcare, their job responsibilities vary. To better understand their role in the healthcare industry, let's look at what a medical assistant does.
What does a medical assistant do?
As previously mentioned, an MA's day-to-day tasks vary depending on different factors, one of the most important being their place of employment. While an obstetric medical assistant is occupied with treating pregnant women, a chiropractic medical assistant helps with various chiropractic treatments.
As such, when pursuing a career as a medical assistant, keep in mind that you need to be prepared accordingly to the tasks requested by the healthcare staff.
Although their responsibilities vary from place to place, the most general daily tasks of a medical assistant include the following:
Drawing blood;
Preparing sampling tests;
Measuring vital signs;
Preparing patients for X-rays;
Changing wound dressings;
Removing stitches;
Conducting basic lab tests;
Educating patients on administering medications;
Explaining general treatment procedures to patients;
Assisting physicians when needed, etc.
Other tasks with a focus on administrative care include:
Scheduling;
Answering the phone;
Taking messages for the medical staff;
Entering patient information into medical records;
Recording any patient medical and personal history;
Greeting patients;
Coding and filling out patient insurance forms;
Bookkeeping, etc.
How to become a medical assistant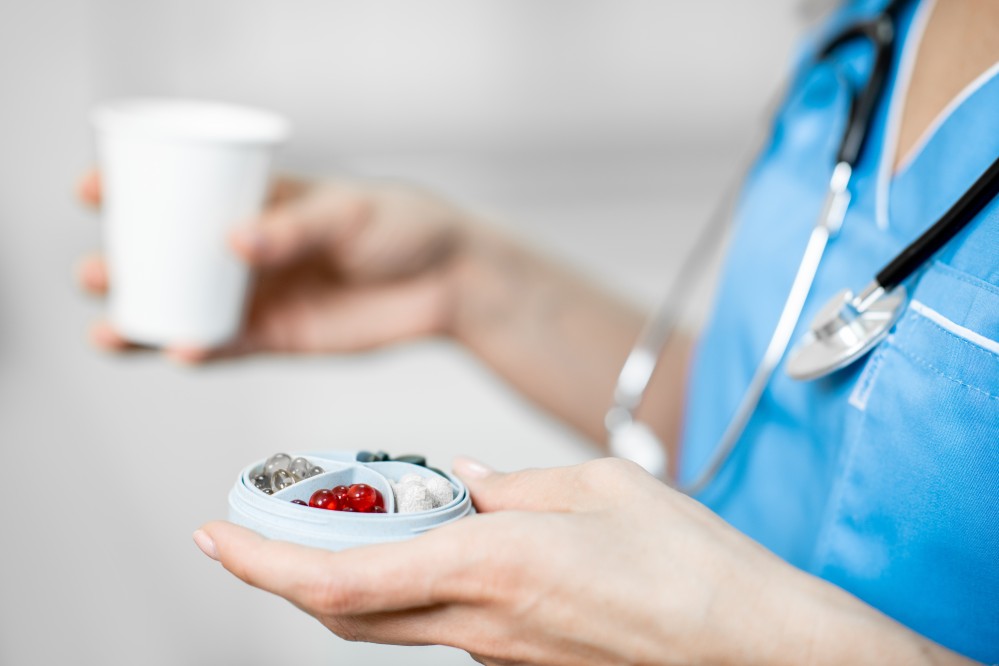 Becoming a medical assistant requires effort and dedication. You'll need formal training from an accredited institution and the appropriate diploma, certificate, or associate degree. These steps needed to become a medical assistant aren't as challenging as they might sound. Compared to nursing, the educational processes you will undergo are minimal.
Medical assistant school requirements
As with any other healthcare profession, in order to enter the workforce, you need to have formal training. Enrolling in a medical assisting program is the first and most essential step toward becoming a medical assistant.
Typical course subjects covered in a medical assisting program include:
Medical office management
Clinical procedures
Pharmacology
Business and computer operations
Medical terminology
Phlebotomy
Basic surgical assisting
Patient care, etc.
Medical assistant skills
A medical assistant must exhibit diverse hard and soft skills. Generally, they should be dedicated, compassionate, knowledgeable, and detail-oriented. Since their role is multi-dimensional, they must demonstrate proper interpersonal, clinical, and administrative skills.
Below you can find some of the general skills and knowledge a medical assistant needs to have to provide high-quality patient care:
Interpersonal skills:
Communication
Problem-solving
Teamwork
Empathy
Clinical skills:
Vital signs measurement
Injections
Cardiopulmonary Resuscitation (CPR)
Electrocardiogram (EKG)
Phlebotomy
Patient preparation
Life support
Medical terminology
Administrative skills:
Scheduling
Appointment setting
Effective use of electronic medical records
Medical coding
Computer literacy
Telephone skills
Multitasking
Organization
Medical assistant job prospects & salary
Working as a medical assistant will provide you with a stable income. According to the U.S. Bureau of Labor Statistics, the average salary for medical assistants is $37,190. The compensation varies depending on the location, expertise, education, and industry. That said, the average salaries for medical assistants in the top industries in which they work are as follows:
Outpatient care centers – $38,270
Hospitals; state, local, and private – $37,800
Offices of physicians – $37,150
Offices of chiropractors – $30,100
The medical assistant job outlook is bright. According to the BLS, medical assistant employment is projected to grow 16% from 2021 to 2031 (much faster than the average for all occupations), with 123,000 openings annually.
What Is a Nurse?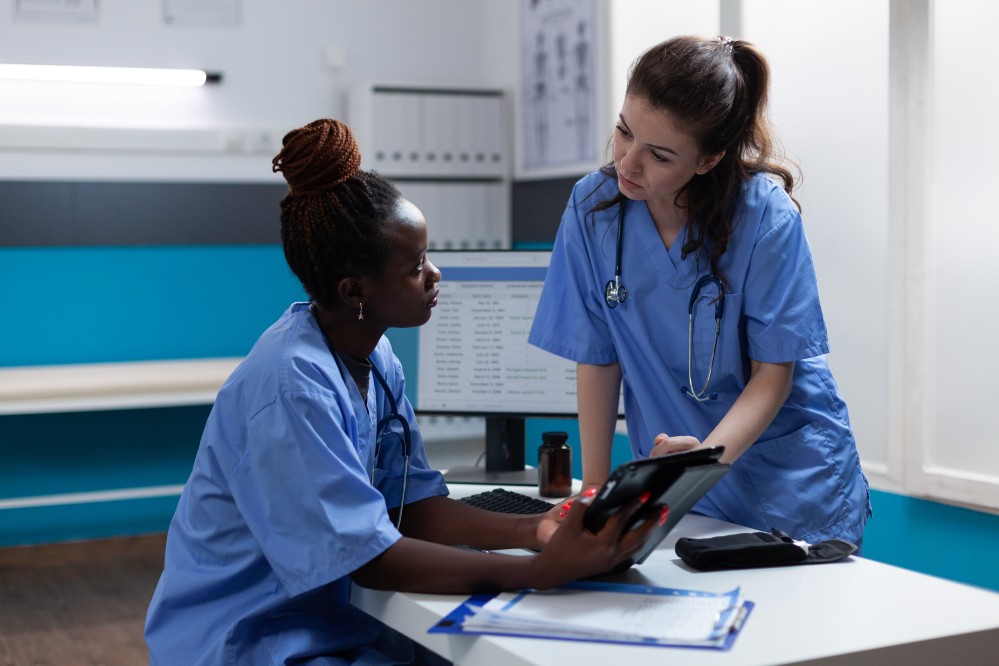 Healthcare institutions would not function properly without the help of nurses. That's how important they are within the medical team. Except for being responsible for patient care, their roles have expanded, transforming them into researchers, educators, and health policy advocates.
The definition and role of nurses have become sophisticated. The best way to learn about nursing is through exploring their duties and responsibilities.
What does a nurse do?
Nurses always seek to perform the best possible quality of care for individuals, families, and communities, regardless of disease or disability. Generally, the daily duties of a nurse vary depending on where they are employed and their specialty. However, some tasks are pretty universal among those in the nursing profession, such as:
Administering medication
Managing patient cases
Maintaining medical records
Recording and monitoring vitals
Providing emotional support for patients
Communicating with physicians
Interacting with insurance providers, etc.
How to become a nurse
Becoming a nurse is a major professional decision. Nurses bear a lot of responsibility, and the job's seriousness can result in high stress and anxiety levels. But it can be a very fulfilling career if you're devoted to helping others through your work. To start your journey as a nurse, you need to go through these steps:
Earn a degree
Obtain a license
Look for a job
Choose a specialty
Pursue additional training
However, not all nursing jobs require a degree. Read on to learn more about the education requirements of becoming a nurse.
Education requirements
Almost every nursing position requires a bachelor's degree, with a few exceptions. If you want to become a registered nurse (RN), you will need a four-year BSN degree, but some places require higher degrees. In addition to that, you must get licensed and obtain relevant certifications.
As mentioned above, those without a bachelor's degree can also land a position within the healthcare industry. To become a practical nurse (PN), for instance, you can complete a nine-month program and obtain a diploma that allows you to sit for further state examinations.
Skills required
Nurses are front liners of patient care. Each day represents new challenges with unique patient conditions for them. To provide quality care, they need to think fast, remain calm, provide emotional support and succeed in each task. Based on the scope of duties mentioned above, nurses need to be skilled in the areas noted below:
Communication
Attitude and confidence
Teamwork
Empathy
Technology
Patient movement
Vital signs measurement
Prevention of hospital-acquired infections, etc.
Job prospects and salary for nurses
When choosing to pursue a role, considering the employment outlook is crucial to assuring work stability. You're more likely to find and keep a job in any field if the job outlook for a position is positive. Luckily for you, according to the Bureau of Labour Statistics, nursing positions have a bright future. The employment growth for almost any nursing position is above average.
A nurse's salary depends on education, experience, role, industry, and area. Nationally, the 2021 average pay for nursing careers was as follows:
The Bottom Line
A career is more than a paycheck; it is what you will dedicate most of your time to for many decades. Although any job in healthcare is worth the shot, you need to consider every aspect carefully.
Do you want to work toward making patients' lives better and, at the same time, contribute to activities that help healthcare institutions run smoothly? Then, you should consider medical assisting. But if you're more ambitious and wish to advance to more challenging positions within the healthcare team, check out our program dedicated to practical nursing and registered nursing to get started.